The Sea Breeze Inn is the perfect starting point for a vacation in Ocean City.
Located at 2nd Street and North Baltimore Avenue, in Downtown Ocean City, Maryland, the Sea Breeze Inn is the perfect starting point for a vacation in Ocean City. Conveniently located near all major roads and shopping areas, the Sea Breeze Inn is one short block from the boardwalk and beach.
A friendly staff awaits you to make your vacation stay as enjoyable as possible. Every room is equipped with two double beds, refrigerator, microwave, telephone, and cable television. We hope to see you soon in Ocean City Maryland.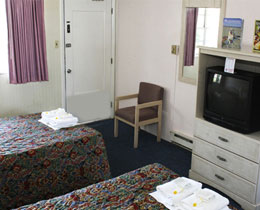 Ocean City Maryland is a favorite for family fun vacations. Families from all over the East Coast come year after year for sun and surf in Maryland's only resort beach town. Clean, sparkling sand and water provide free activities for visitors of all ages; sunbathing, surfing, fishing, swimming. And off of the beach, the town is animated with many diverse activities. Watersports and activities are in abundance with jetski rentals, nature cruises, charter fishing, and parasailing in our miles of bay and ocean waters.
Shopping is another favorite past time of Ocean City vacationers, as the town boasts hundreds of specialty shops, craft stores, antique stores, brand name outlets, and custom gifts not found elsewhere. All the latest beach fashions can be purchased right here in local shops. Eating out is the next special treat Ocean City offers, with more than 160 restaurants offering every type of cuisine you could desire. Seafood is the most dominant, often buffet style, and particularly Maryland crabs, steamed, fried and broiled shrimp, scallops, lobster, mussels, oysters, crawdads, flounder, rockfish, and much more.
Although Ocean City thrives in the summertime from the 4th of July through Labor Day, the "off-season" is also attractive to many, with its more laid-back, subtle pace. Springfest and Sunfest bring tents bursting with crafts, a smorgasboard of food, and live entertainment. Golf, fishing, and cooler days are prominent features in the fall and spring. Ocean City sparkles in the winter with the Winterfest of Lights for the holidays, and the town is decorated from end to end. No matter what time of year you need a break, Ocean City is the perfect getaway for all types of vacationers.